Post by Emperor Ihsahn on May 14, 2015 20:22:43 GMT -5
NWA: Wild West TV
Ep. #7 ~ May 14th, 2015
Kaiser Convention Center, Oakland, CA.
Attendance: 5,500
"Hello everybody and welcome to another hot edition of NWA: Wild West TV. I am your host Joey Styles..."
"And well, well, well. It is I the bacon in her eggs, the man for whom she begs and the face between her legs. The lyrical miracle, the sexual intellectual and the quintessential studmuffin...Joel 'Lady Gaga advocates celibacy what an absolute disgrace, if she won't let me stuff her muff then I'll just poker her face'....GERTNER!!!!!"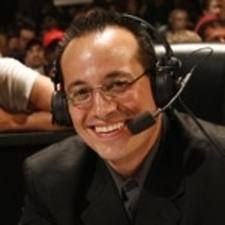 NWA: Wild West Theme Song
---
The camera cuts backstage as soon as the theme song is finished playing and we see a Black SUV come speeding down the parking ramp and into the backstage area. Out of the SUV steps
Alberto El Patron
and he's got Cibernetico's NWA: Wild West Heavyweight Championship! El Patron makes his way to the curtain and then proceeds to walk down the ramp with no music whatsoever as the fans are chanting his name. El Patron steps into the ring and climbs the turnbuckle to show off the belt that he stole from Cibernetico yesterday in Mexico. El Patron grabs a microphone...
"Cibernetico, I believe I have something that belongs to you and if you'd like to have it back then you're going to have to pry it from my cold dead hands! After what you and your goons did to me at Dynamite Series by laying me out, I only have vengeance on my mind...And believe me when I say that win, loss or draw, you are never going to be the same. You took something from me on May 5th that I can't just win back, you took my pride and for that you owe me your pride, your honor and your legacy."
Cibernetico
makes his way onto the stage with
CM Punk
& AJ Lee, Ciber has a mic in hand...
"Alberto you have signed your own death warrant. We gave you the option to play nice and you choose to do things you're own way and now you will have to suffer the consequences. You talk about losing your pride, and that you want to take my pride, honor & legacy? Alberto, I am going to take your SOUL! For your see, on Saturday, June 20th the Wild West is going to witness chaos and destruction the likes of which has never been seen before....Alberto, on June 20th you will get your match with me, but I will get MY match and MY match is....A STAIRWAY TO HELL Match!"
"You think that intimidates me? Let's up the ante a little bit shall we? Let's me it an I Quit match, because hearing you scream I Quit and beg for mercy will be the most joyous thing I've heard in a long long time."
"Very well...But one last thing Alberto, I know you are not going to simply give back MY belt so next week right here on Wild West TV we are going to have a tag team match...Cibernetico & CM Punk vs Alberto El Patron & AJ Styles...That is of course if AJ gets through Texano Jr. tonight!"
The Calling exit the stage as Alberto El Patron stands tall in the ring with a smile on his face for not only does he have Cibernetico one on one but next week he gets a piece of his nemesis as well.
---
Karl Anderson & Kenny Omega vs Eddie Kingston & Mark Briscoe

Eddie Kingston & Karl Anderson start things off, Kingston immediately starts to throw some vicious chops and then follows up with a stiff elbow shot, Kingston grabs a side headlock but Anderson shoots him off into the ropes, Anderson leap frogs Kingston than hits an arm drag, Kingston back to his feet and charges at Anderson but Karl ducks a clothesline and then hits a big Yakuza Kick on Kingston as he turns around, cover 1...2..Kingston kicks out fairly easily. Anderson tags in his Bullet Club stable mate Kenny Omega who goes to work on the right arm of Kingston. Arm wringer followed by a shoulder break puts Kingston back to the mat, Omega now has a side armbar locked in but Eddie is fighting through the pain. Mark Briscoe tries to enter the ring but the ref holds him off which allows Anderson to quickly rush the ring and give Kingston a solid boot to the side of the head. The ref finally breaks the hold after Kingston reaches the ropes but Omega is right back to work and then tags Anderson back in. Kingston gets a elbow to the gut of Anderson and then follows that up with a headbutt which drops Anderson to one knee, Kingston digs deep then rushes Anderson and hits a Shining Wizard! Both guys are out in the center of the ring as the Ref begins his count. Both guys start to move and both guys manage to get to their partners at the same time, much to the relief of an exhausted Eddie Kingston. Briscoe charges at Omega and levels him with a lariat, Briscoe takes out Anderson as well with a spinning heel kick. Briscoe is fired up, he throws Omega into the ropes and then hits a big spear, cover 1...2...NO! Omega kicked out, Anderson back into the ring and he knee's Briscoe in the guts, Kingston is back in the ring just in time and he lays out Anderson with a spinning back fist, Anderson rolls to the outside, just as Kingston turns around Omega hits a running knee to the face which sends Kingston to the floor. Omega turns around and eats a missile dropkick from a top rope prone Mark Briscoe! 1...2...NO!!! How did he kick out of that? Briscoe get's Omega back to his feet and, Briscoe gets a lifeless Omega up in the suplex position....BRAINBUSTAAAAAAAAAH, that's gotta be it...1....2....Anderson pulled the ref out of the ring! Karl slides into the ring and eats a superkick to the face from Mark Briscoe! Briscoe doesn't see Omega who is lining him up...Kingston is back in the ring and charges at Omega but Kenny ducks and Kingston lays out his partner with a big left hook, Omega hits a pedigree on Kingston and then climbs the turnbuckle...450 splash on Mark Briscoe, OH MY GOD! 1....2...3!!!
What a match that was! Post match both teams shake hands with one another as the crowd is giving both teams a standing ovation. As Briscoe & Kingston leave the ring they argue and bicker about how the match and how Kingston accidently hit Briscoe.
---
Falls Count Anywhere
Masada vs Yuko Miyamoto
Neither man wastes any time as they both charge one another as soon as the bell rings. Both guys meet in the middle of the ring and begin trading stiff shots and chops back and forth. Masada eventually gets the better of the exchange and Miyamoto drops to one knee, Masada grabs him by the hair and tosses him through the ropes and outside of the ring. Masada then hits the ropes and the big man hits a huge dive which wipes out the former BJW Death Match Champion! The crowd is chanting "Masada, Masada, Masada" as he takes in his adulation. Masada get's Miyamoto back to his feet and goes for an irish whip into the guardrail but Yuko reverses it and Masada goes crashing back first into the steel guardrail, Yuko charges at Masada but he eats a back body drop and goes flying into the 2nd row of the crowd! Masada hops the rail and starts taking the fight to Yuko in the crowd, Masada at one point grabs a fans beer, takes a big drink and then smashes Yuko with it, much to the delight of the rabid Wild West fans! Yuko grabs a chair and slams it into the midsection of Masada and then follows it up by smashing the chair on the back of Masada which sends the big man to the concrete. Yuko waits for Masada to get to his knee's before THROWING the chair at his face! OH MY GOD, Masada is busted wide open! Miyamoto is near the tunnel which goes under the stands and into the lobby, he is setting up two tables side by side directly under the drop off from the stands to the floor at the tunnel to the corridor, a good 20 feet up. Yuko has Masada by the hair and drags him to the top of the stands above the tables, Masada comes to and starts fighting back, both men firing away with punches, rights and lefts, lefts and rights. Finally Masada knee's Miyamoto in the stomach...Oh no...NO DON'T DO IT MASADA...POWERBOMB OFF THE TOP GRANDSTAND THROUGH TWO TABLES.....OH MY GODDDDDDDDDDD! Masada covers, 1....2....3!
Masada is standing tall the fans as blood pours from his head, the fans are chanting his name...A Cult Hero has been born!
---
We cut backstage to the locker room of The Calling as Cibernetico, CM Punk, AJ Lee, Sexy Star, Chessman, Averno & Texano Jr. are all sitting around laughing about the audacity of Alberto El Patron earlier in the night. Texano says that tonight, he is going to make AJ wish he had stayed in Japan. Meanwhile Los Hell Brothers Chessman & Averno tell Cibernetico that they want
The Young Bucks
on June 20th, Ciber says they can have whatever they want because they are loyal and hard working minions.
We then see The Young Bucks watching a monitor in a hallway, they both look at each other and smile. Nick tells Matt to get ready for the party, Matt asks what party, Nick "SUPERKICK PARTY BABAY!". Los Hell Brothers vs The Young Bucks on June 20th is set!
---
AJ Styles vs Texano Jr.
(Styles Clash is banned)
Joey Styles is in the ring for superduper ring introductions as AJ Styles makes his way to the ring, confidently. He shakes hands with the fans at ringside and then climbs each turnbuckle in succession to play to the crowd. His music dies down and all we hear is the crowd buzzing for the arrival of Texano Jr....
WAIT JUST A DAMN SECOND! Texano Jr. is still wearing Ric Flair's robe that he wore during his match against Cibernetico and Texano is strutting his way to the ring, mocking Flair with every step he takes. The crowd is throwing garbage at him as he slowly and tauntingly makes his way to the bottom of the ramp when out of nowhere AJ Styles comes FLYING OVER THE TOP ROPE!!! AJ wipes out Texano and then begins raining punches down upon the Mexican star's head. AJ is beside himself, he grabs Texano and throws him into the steel steps as the ref is pleading with AJ to get in the ring. AJ throws a lifeless Texano back into the ring then climbs in himself and the ref finally rings the bell to start the match...
AJ goes for the quick cover on a woozy Texano but it only gets a 1 count. AJ starts kicking Texano in the guts and then stomps on his fingers, Styles then takes Ric Flair's robe off of Texano and tosses it to Joey Styles gets taken right in the face with the heavy robe causing his glasses to go sideways in a comedic scene. The humour doesn't last as AJ goes right back to work on the disrespectful Texano Jr. Styles throws Texano into the rope and goes for a leaping elbow but it's ducked, Texano springboards off the middle ropes and hits a big kick to the side of AJ's face, Texano then kicks out the left leg of AJ which causes the former World champ to fall to the mat. Texano goes straight to work on the left knee, picking it up and slamming it into the mat repeatedly as Styles screams out in pain. Texano then rolls over AJ and locks in the...FIGURE FOUR LEGLOCK!?!?!? The crowd erupts in fury as the blatant disrespect from Texano towards the hospitalized Ric Flair is becoming almost unbearable for the crowd to take. AJ slams his fists into the mat from both the pain and anger, Texano smiles at AJ and then yells at him "Tap, come on AJ, Flair is a bitch and so are you, just tap" AJ leans forward with all his power and open slaps Texano so hard that the crowd goes silent for a moment and then erupts as AJ SPITS on Texano, the ploy works as Texano breaks the hold and tries to kick AJ in the head but AJ ducks the kick and kick flips up and his a PELE! Texano falls out of the ring and AJ slides out to meet him, Styles is limping a bit as he left leg has been worked over pretty good but he gets the jump on Texano and slams his face into the announcers table, Texano is out of it and AJ rolls Texano on top of the table and then climbs up himself. AJ drags Texano to his feet by his hard on top of the announce table and goes for the STYLES CLASH but then he remembers then he isn't allowed to use it, the hesitation allows Texano to fight back and then low blow AJ Styles, Texano grabs AJ...FALCON ARROW THROUGH THE TABLE! HOLY SH*T! After a good 14 count (No 10 count nonsense here!) both guys show signs of life, Texano rolls back into the ring and is followed by AJ Styles who beats the Ref's count by 1 second! Back in the ring both guys start trading punches back and forth before AJ ducks a punch and runs to the ropes and does a springboard backflip and catches Texano perfectly for a reverse DDT, AJ quickly to the outside of the ring, Springboard 450 Splash! 1...2...NO! AJ picks Texano up by the hair and hits a Death Valley Driver, AJ positions Texano where he wants him and then climbs to the top rope...SPINAL TAP! 1....2....3!
AJ Styles get's his hand raised by the referee as the camera cuts to the backstage area just in time to show Cibernetico losing his mind and throwing everything he can find. He then pulls out his phone and hits a button, then says..."I need you here next week, no excuses". The show then fades to black as AJ's theme is blaring and as we see him high fiving the fans...
---
Quick Results

1) Karl Anderson & Kenny Omega d. Eddie Kingston & Mark Briscoe via pin @ 15:21
2) Masada d. Yuko Miyamoto via pin @ 11:02
3) AJ Styles d. Texano Jr. via pin @ 18:43