Post by Emperor Ihsahn on Mar 28, 2015 20:43:53 GMT -5
Los Hell Brothers Seize Control Of NWA: Wild West Wrestling's Offices!
Chaos has erupted at the offices of NWA: Wild West Wrestling in San Bernardino, California as Cibernetico stormed the offices with Chessman & Averno. Cibernetico had reportedly met with Wild West officials yesterday about possibly coming to the promotion, officials seemed confident enough to draft the Mexican star. However, shortly after drafting Cibernetico, he arrived at the offices claiming to want to get a picture with the officials. Once inside he waved his long time allies Chessman & Averno in with him and they stormed into the board room where the officials were preparing to draft. Mayhem erupted as the self styled Los Hell Brothers began hitting anything that moved and trashed anything in sight. Cibernetico had a look of perverted enjoyment on his face as his henchmen inflicted fear and pain into all who got in their way. By the time the initial rampage had ended Cibernetico had taken board members hostage in the board room and then forced the official draftings of Chessman, Averno & Texano Jr. The office had come to look like a tornado had went through it...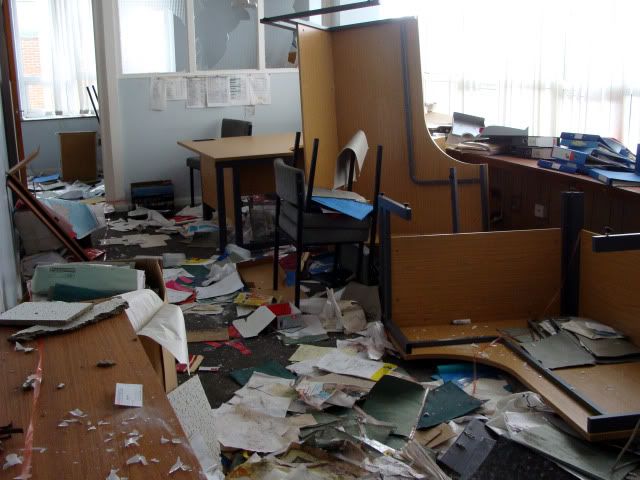 Cibernetico had stolen CM Punk's interview time earlier and had alluded to an accident having happened to the promotions #1 pick. No one has heard from Punk and nobody knows where he is but Cibernetico is clearly not worried as he demands tv time to
address
the promotion & it's fans...
So this is California? This is the big time? More like this is my time! No more being held back, no more taking a backseat & no more taking no as an answer. With my brothers in arms nothing can stop me. We will stop at nothing until this promotion is ours entirely and judging by how easy it was to take over this dump, it shouldn't be too hard. We are running this draft now and there isn't a damn thing anyone can do about it. I know what you're thinking, "CM Punk will show up to save the day" or "Punk will get get his revenge". Well let me tell you a little secret...CM Punk is mine. Don't worry he's safe, just a little beat up hahaha, I am sure Damien 666 & Halloween are taking real good care of him down in Guadalajara. He isn't coming to rescue anything and he won't be interrupting my plans for my glorious takeover of Wild West Wrestling. The entire NWA will be next and they are going to wish..
AJ STYLES & THE YOUNG BUCKS!!! The Bullet Club storms the boardroom swinging in the middle of the live interview Cibernetico was giving. Styles jumps onto the table and then dives at Cibernetico, they crash into the back wall of the room. Meanwhile The Young Bucks throw out simultaneous Super Kicks on Chessman & Averno laying them out. AJ & Cibernetico are back to their feet and are throwing mean haymakers at one another, Cibernetico is busted open from the dive. The Young Bucks rush to help AJ Styles but the fight between AJ & Cibernetico is too wild for anyone to get involved. AJ slams Cibenetico's head into a picture on the wall which drops the Mexican star to one knee. Without hesitation Cibernetico low blows Styles as The Bucks Rush in and drill Cibernetico with a double superkick knocking him clean out. The police finally arrive as the camera's flick off.
With the NWA offices trashed but the board members safe and sound the promotion can get back to trying to get through the draft. The Bullet Club as they like to be called have promised to keep the promotion safe from any takeover attempts. The whereabouts of CM Punk is still unclear and AJ Styles has said that he will do everything he can to help find his friend. Cibernetico mentioned in his telecast that he Punk was in guadalajara being held by Damien 666 & Halloween. US Officials have contact their Mexican counterparts but they have not been able to conclusively lay blame to Los Hell Brothers. The question remains though, Where is CM Punk? Hopefully we get some answers on the inaugural episode of
Wild West TV on Thursday
!